Lachlan Valley Cycle Trail - 7 days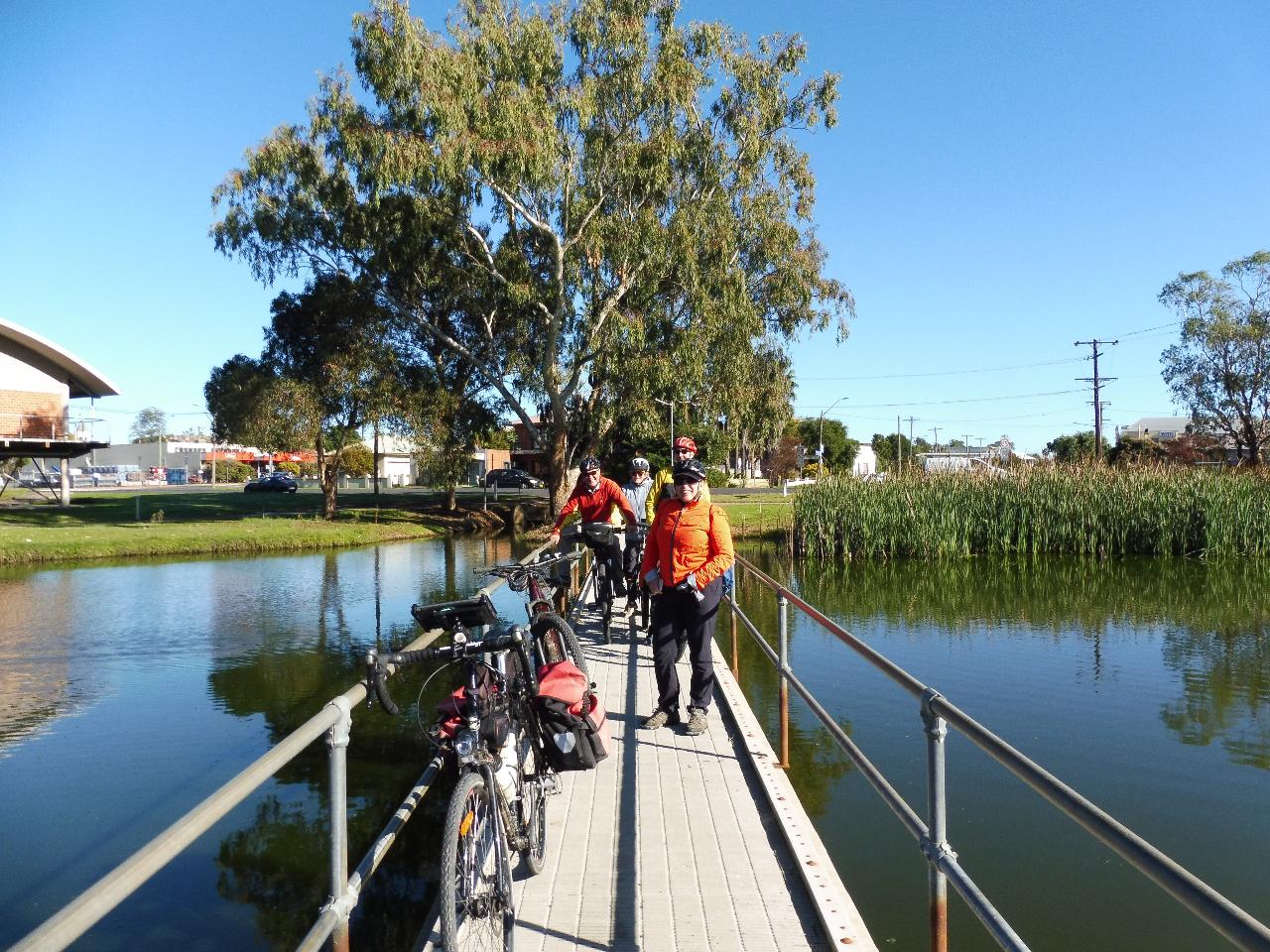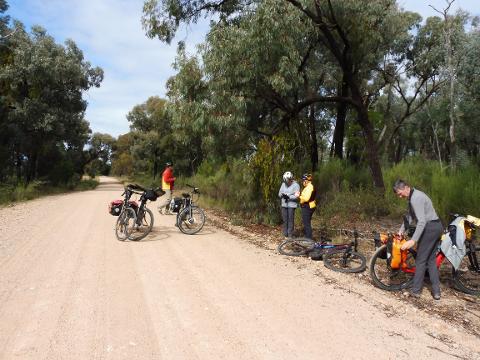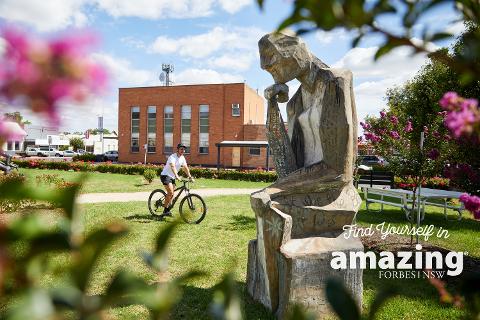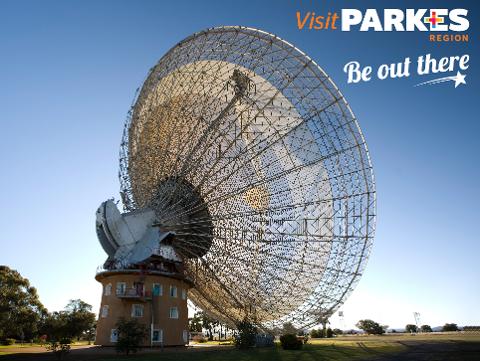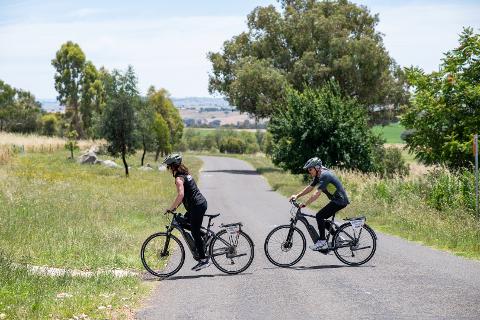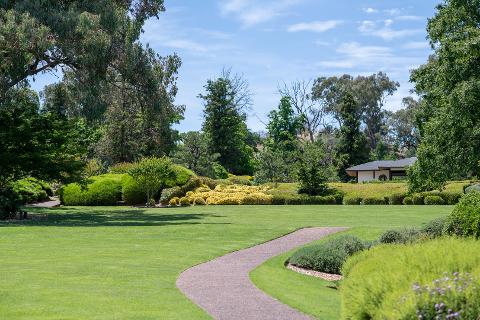 Duração: 7 Dias (Aproximadamente)
Localização: COWRA, NSW
Código de produto: CCT2022
Lachlan Valley Cycle Trail
This stunning scenic tour starts from Cowra and cycles along scenic gravel roads of the Lachlan Valley to Gooloogong, Eugowra, Forbes, Parkes, Eugowra, Canowindra and finishing in Cowra. The Lachlan Valley Central West Region is very scenic and picturesque region known as the golden circle of food production across all sectors grain, vegetables, wine and meat. You will be able to taste the fresh produce. The roads are 90% gravel back roads with low traffic carefully selected so that you can peacefully enjoy the scenery and
highlights of our region.
You will visit Amazing Forbes, Parkes home of Elvis Festival, Eugowra the town of murals, Canowindra home of Age of Fishes Museum, Cowra home to Prisoner of War Camp and learn about the Japanese Breakout. Relax in the beautiful Cowra Japanese Garden.
Learn and visit the history the many historical towns and villages of this stunning scenic valley. Bushrangers once roamed this gold rich region.
Our tour routes are carefully selected to ensure that the roads on which we tour are, low in traffic and suitable to most fitness levels.
The locals have enthusiastically embraced this new cycling tour and are looking forward to welcoming and providing country style hospitality..
BYO Bike or hire an E-Bike from Central West Tours- please call

The Tour at a Glance - Link to Route Map
Duration

: 8 nights, 7-days cycling

Start & Finish

: Cowra, NSW

Distance

: 345km approx.

Average Daily

: 50 km

Bike Type

: Hybrid, Touring or Gravel bike E bike

Surface

: Sealed & unsealed roads, trails.

Terrain

: Flat to undulating. Gradients are 1% - 3%

Roads

: Quiet, local, bike-friendly backroads with very little traffic.

Group Size

: Small group tour, approx. 5 – 10

Difficulty Rating

: 4/10 - fun

Accommodation

: 8 nights country hotels & motels

Meals included

: 8 breakfasts, 2 Lunches 8 dinners, plus on-road snacks.
Bike Hire:

E Bike hire Available - please call
Included on tour

All accommodation, 8 nights

Meals - 8 Breakfasts, 8 Dinners, 2 Lunches

Snacks, water & fruit on the trails

Transfers to/from each days ride as required

Bike mechanical assistance, limited

Support & safety vehicles

Daily maps & directions

Entry & Lunch at Japanese Garden

Age of Fishes Canowindra

Evening dinner Indian Restaurant Cowra
Itinerary Details

Day 0: Pre-Tour arrival - Accommodation Booked
Stay Orange

Arrive at Cowra and prepare your bike and equipment for the cycle tour. Relax and get ready
for dinner, meet the other tour cyclists and Central West Tours staff
Lachlan Valley Cycle Trail - starts
Day 1: Cowra to Gooloogong 65km Stay Gooloogong
We will cycle through Cowra to the POW Camp and onwards along scenic country lanes to the halfway point of the day's journey Billimari where we will stop for a half hour rest. We cycle another 25km via scenic River Road thru highly productive farm land which may give an opportunity to get photos of Canola (yellow flower) depending on the season. We cross over the Lachlan River before reaching Goolagong. Goolagong Park has a lot of historical boards detailing the rail line history and history of the town.
Ben Hall the Bushranger hid from Troopers in the cellar of a historical house just 6km outside of Gooloogong, Coorte Cottage.
Day 2: Gooloogong to Eugowra 43km Stay Forbes
Eugowra the historical town of Murals and Bushrangers, lunch, coffee break and meet the locals and enjoy talking about the exploits of bushrangers and discover who painted the murals. Vehicle shuttle to historical Escort Rocks site, where 8 bushrangers of the Frank Gardiner gang ambushed and robbed the gold coach. Vehicle shuttle from Eugowra to overnight accommodation at Amazing Forbes. Settle into the motel at Forbes
Day 3: Eugowra to Forbes 55km Stay Forbes
Morning vehicle shuttle from Forbes back to Eugowra and a relaxing coffee at The Fat Parcel Food Van Eugowra. The days cycling start from Eugowra back to Forbes via the scenic original Escort Way that follows closely near the Lachlan River. Enjoy the afternoon in discovering the history and beauty of Amazing Forbes. Relax with another evening in Forbes
Day 4: Forbes to Parkes 40km Stay Parkes
The tour takes us to the Parkes home to the renowned Parkes Elvis Festival. Parkes originally called Bushman was renamed after Sir Henry Parkes who visited the area in 1873. To learn more about Parkes and Sir Henry Parkes visit this link, Henry Parkes Centre
Day 5: Parkes to Eugowra 48km Stay Parkes
Cycle Parkes back to Eugowra via Cookamidgera and the stunning scenery of Amaroo Way. Relax in Eugowra with coffee and lunch, discover more about this amazing town. Vehicle shuttle back to Parkes and spend another relaxing evening back at Parkes.
Day 6: Eugowra to Canowindra 52km Stay Canowindra
Morning vehicle shuttle from Parkes back to Eugowra. Enjoy a relaxing coffee at The Fat Parcel Food Van Eugowra. The days cycling starts from Eugowra to historical Canowindra. Canowindra is the town that was taken over by bushranger Ben Hall and his gang; we will show you the site of the hotel. Visit to the Ages of Fishes Museum and Historical Museum.
Day 7: Canowindra to Cowra 44km Stay Cowra
Easy day of cycling back to Cowra, the route is mainly flat on gravel road following the disused rail line. On arrival in Cowra we will visit the Japanese Garden and lunch will be provided. The afternoon is yours to discover Cowra. Visit the Peace Bell and also the Information Centre to see the Hologram.
Day 8: Cowra: Depart
Depart or stay an extra day to further explore and enjoy the attractions of Cowra and the Central West. Tour ends 10:am. Tour officially concludes with hotel checkout.
All Tours require comfortable walking shoes, weather appropriate clothing and sunscreen.
Cycle Tours, Clothing must be suitable for cycling

Closed Shoes for cycling

Water Bottle to fit into Bike Drink Bottle Holder

Sunglasses

Warm socks, pants and jacket

1 or 2 pair bike Knicks. (Important) padded shorts

Wet weather jacket

Bike Gloves

Small day pack 15L

Your own bike and Helmet if not hiring


Start Booking Now - table

select - Number of Participants
select - Choose a Date
select - BOOK NOW

Terms of Service-Central West Tours
Terms & Conditions of Bike Hire - Central West Tours